Their website does not mention J&J.
This is because they have their own system. However SmartMind does work on J&Js C2-Plus series, and they will gladly sell you the SmartMind Neurofeedback Software, if you mention that you are a J&J owner.
Note that while their literature recommends buying Captain's Log at the same time as buying SmartMind, you can purchase one now and the other later. SmartMind will work as a stand-alone neurofeedback program right out of the box.
Contact SmartMind directly via phone or email for the J&J connection.


As of this writing [December, 2008], the SmartMind website is very underdeveloped.
If you already own a J&J C2-Plus, you can add their software for a fee of about $1500.
This is excellent software for neurofeedback, and has been highly developed to integrate success in neurofeedback with success in tasks. If attention is held focused, both feedback and task performance is reinforced. Failure in either domain allows you to reset goals and focus on better sustained performance, wither in EEG-based attention or cognitive-task-based matching/ decision making skills.

We recommend you also purchase the J&J EEG adaptor, one per EEG channel, to use their recommended gold Grass electrodes. However the J&J electrodes work equally well, although some practitioners
"Using the SmartMind and Captain's Log, it is simple to adjust the level of mastery your client is expected to reach, putting success within the grasp of lower level clients or challenging those individuals with higher level skills to stretch their abilities. Both Captain's Log and SmartMind can be easily customized to fulfill a variety of training protocols. Clients can learn to stay relaxed when faced with challenging cognitive exercises, thus enhancing their self-control. If you use neurofeedback therapy, you won't want to miss out on this compelling new technology! If you are happy with the results you are getting using cognitive training software, you will be even more excited about this powerful new approach!"
You can add SmartMind to your J&J I-330-C2 Plus 6 or 12.
It comes with all the supplies and accessories you need to get started, including electrodes. Additional supplies are available from BrainTrain. For more information, please give BrainTrain a call today at 1-800-822-0538. Or just email at info@braintain.com."
SmartMind is made by Brain Train. If you are doing exclusively neurofeedback, we highly recommend this system.

Most 'game-based' neurofeedback systems actually inhibit learning to control brain waves. SmartMind is the one exception. By focusing on the game, you are asking the client to both control a brain wave set and play a game. SmartMind is more intelligent about games. First learn the neurofeedback signal set, then try to keep it alive during a simple game. Failure over a short trial allows you to reset goals and 'set-down' criteria. As performance improves, success at a neurofeedbck trial improves, you can switch immediately to a cognitive [attentional/memory/matching/naming] task. Now both task performance AND proper brain wave activity is needed to complete a short trial.
Published results are quite remarkable [see Brain Train for references].
J&J user report both faster neurofeedback learning AND better cognitive performance.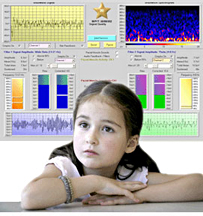 3rd Party SOFTWARE
SmartMind from BrainTrain
We support software from other sources, not just from us.
SMARTMIND is one such product.
If you are working with students this is the system for you.
If you have professional credentials to work with clients with functional ADD, learning disabilities or brain injury, you should explore this system.
For both C2+ 6 and C2+-12, and the GP-8 EEG.
This non-J&J product runs on J&Js C2 Plus Series hardware.
We recommend it for those wanting more from their J&J Instruments.
Contact Brain Train and tell them you have a J&J Instrument..